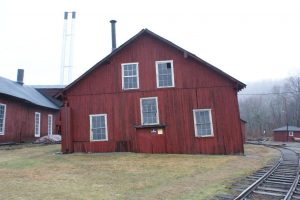 The current Blacksmith Shop, built in 1906, is one of the most recent additions to the EBT shops complex. It is where metal components were finished with heat and/or hammering. Springs, locomotive flues and many other forged metal products were produced in the building.
Over the years, the east side the the Blacksmith Shop had slowly subsided, while the west side had not. Slowly, this caused the building to tilt, and it reached a precarious angle by the 2000s.
Because of the size of the project, it was decided to hire a professional barn repair contractor (the building is built much like a barn) to raise the structure and make major repairs. FEBT would continue restoration from there. A fundraising campaign collected a substantial portion of the money needed. Joe Kovalchick contributed the difference and the work was begun.
Then FEBT volunteers took over, repairing or rebuilding the roof, smokejacks, clerestory, window frames, window sashes, siding and doors, and also regrading and cleaning up the site. As of 2019, window repair is nearing completion and the building only needs a bit more work and painting.